This review is currently still under construction and is not yet fully complete
When initially booking this cruise it was hard to decide whether our minds classed it as a cruise or an adventure. Certainly we had never ventured into this area of cruising before and from the moment of confirmation of the booking our expectations and excitement heightened with each passing week.
Added to our anticipation of life onboard a sailing ship was the prospect of the unusual itinerary that this particular cruise offered
This was a 'cruise only' booking as there was no other package on offer at the time of booking and flights were additionally out of range.
As always one of the benefits of booking early is a wider choice of cabins. This was of particular interest to my wife and I as our preference was for one of the eight cabins accessing the open decks. We therefore considered ourselves fortunate when, even booking 18 months in advance, we managed to reserve the last 'on deck' cabin.
The itinerary was a 14 night cruise from Bali to Singapore with just 3 sea days…
We joined Star Clipper at the Balinese port of Benoa, and had our first glimpse of her after emerging from the Benoa's cruise terminal…
We had booked cabin number 532, a Category 1 Cabin on the aft Sun Deck…
That's it on the right…
…with very easy access to the aft swimming pool. Meanwhile it's reasonably spacious 14.5  m2  floor space offered comfortable accommodation…
…with two windows and 5 portholes.
…with reasonable storage and hanging space…
…and an ensuite bathroom with whirlpool bath with overhead shower…
Cabin toiletries were plentiful and branded by Star Clipper…
Each cabin is equipped with a DVD player and  a comprehensive range of DVDs are available from the Purser's office. Certainly in our onboard experience we never found time to even read the machine's instructions, let alone watch Pirates of the Caribbean.
We were also pleased to receive a complimentary copy of 'The Star Clipper Saga' which appeared one evening at turndown…
…while Catergory 1 Cabins also benefitted from an early evening canapé service…
The cabin décor was reflective of the whole ship's internal décor and reminiscent of the grand age of sail: a rather warm nautical affair with deep blue carpets and a dash of faux luxury. Antique prints and paintings of famous sailing ships abound, while brasswork, teak and gleaming mahogany rails are richly reminiscent of Star Clippers' proud nautical heritage.
Star Clipper has a passenger capacity of 170 though on this particular sailing, entirely due to single cabin occupancy, total passenger numbers onboard stood 143.
Public areas consist of two bars and the Library. The Piano Bar has a warmth and charm all of its own…
(note the central port holes offering a view into the forward swimming pool)
*****
The Piano Bar is also the venue for the 'early bird' breakfast buffet…
…and also the 24 hour warm 'beverage station'...
The Tropical Bar is essentially an 'Al Fresco' venue and the social hub of the ship…
*****
*****
…which serves a multitude of activities and purposes including port briefings, evening entertainment,  dancing, and afternoon tea…
The odd Deck Lunch on a sea day…
…the 'Sloop Shop' table top sale…
…and the Sailmaker's workspace on a port day…
And of course, on disembarkation day, the luggage store…
As a point of interest, the deck area of the Tropical Bar also plays an important function  that passengers are unlikely to witness.
In simple terms it affords major access to the ship's storerooms, fridges and freezers during turnaround days. Unless one is aware of it the hatch, giving access to a further 3 decks below, is neatly blended just infant of the actual bar…
The final 'Public' area onboard is The Library…
With its central Belle Époque fireplace the Edwardian style library is both reminiscent and a reminder of the grand age of sail…
When not utilised as a small lecture or presentation room it offers a peaceful haven to those not wishing to be influenced by the distractions on the open decks.
The library also offers two computer stations…
…and is additionally the centre for the simple ship's tours and excursion booking system…
Moving around the ship it is easy to consider that Star Clipper is a near true reflection of the heritage of this type of sailing ship in almost every detail. Polished brass, gleaming brightwork and rich teak: seamlessly emulating the traditions and romance of the legendary era of sailing ships…
*****
*****
Dining onboard Star Clipper is open-seating  in an elegantly appointed dining room on Clipper Deck…
*****
Breakfast and Lunch are 'buffet' affairs…
The breakfast buffet generally consisted of the usual fare…
…complete with  the ubiquitous egg station…
Lunch buffets were generally of a national themed nature, this particular one being Indonesian…
At each ach lunch there was to be found a 'daily roast': no prizes for guessing this one…
Dinner was altogether a much grander affair with full waiter service and a 5 course offering. A Sample Menu…
*****
Some dishes served at Dinner…
Salmon Tartare:
Salad Caprese:
Breast of Duck:
Turban of Sole:
Braised Knuckle of Lamb:
Baked Alaska:
We considered that the on board wine selection was very good and all reasonably priced…
*****
…and for those who aren't tempted by the higher quality wines there were  perfectly acceptable bottles of House Red and White on offer at €16.00 a bottle…
It can be noted that the prices of wines onboard gross. That is there was no service charge added.
That just about covers the domestic side of Star Clipper which leaves the one area I have deliberately left till last –  the upper decks and life onboard a sailing ship.
And sail this ship does with probably the most noticeable sensation being the lack of any vibration that so epitomises main stream cruise ships.
The Sun Deck boasts two swimming pools, one midships…
…and the other aft…
The after pool benefits from an adjacent shaded area though when not at full sail shade canvas is promptly rigged directly over the both pools…
As a general sweeping statement it was apparent  that Star Clipper possibly offered more outdoor space per passenger than most conventional cruise ships.
Passengers are aware that the ship is a working sailing vessel and, as such, provides a very different experience to the average cruise ship…
*****
Each passenger was given a comprehensive diagram in order to identify the Clipper's masts and sails…
*****
'Ship shape and Bristol fashion' springs to mind…
There was never any objection to a bit of exploration, the 'nets' proving an ideal photographic location…
improving the further forward along the spit one was prepared to go…
(always of course under the watchful eye of Solent Barbara)
*****
For those not content with keeping their feet on deck, there were a number of occasions when a mast climb was organised…
*****
…and here's my wife photographing me photographing her during the climb…
…Yee Haw – eat your heart out Hornblower…
…and an attempt at a selfie…
Generally there was total freedom around the decks and the only time any restriction was in place was when, during sail setting, anchoring and port entry the foredeck forward of the bridge was 'out of bounds'…
On other areas of the Sun Deck the crew had no problems working around passengers, indeed one quite often felt part of the the operation none more so on the bridge…
…while the Captain was always happy to brief passengers on particular points of sailing interest…
Talking of the bridge, there was never a problem with a visit either…
…or for that matter, having a drive…
Each passenger was given a comprehensive diagram in order to identify the Clipper's masts and sails…
*****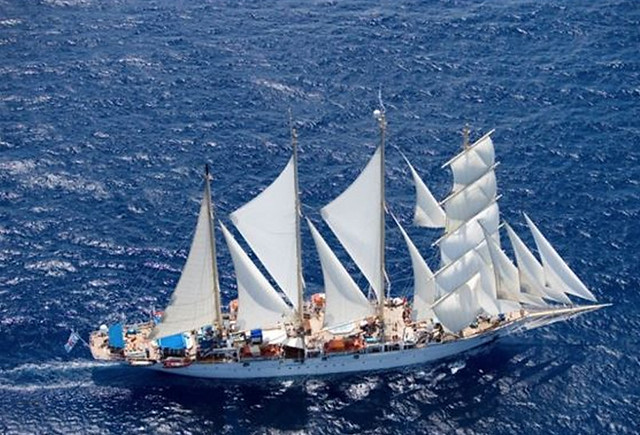 Life Onboard
With just three full sea days this was obviously a port intensive cruise and our port visits will be covered in more detail in the following itinerary section.
Star Clipper can carry 170 passengers however, on this particular cruise there were only 143. This reduction was due entirely to the high number of single occupancy cabins.
There was a passenger mix of 10 nationalities, the majority being German (52) followed by the USA (31) and then the UK (26). There was also a strong contingent of 15 from Sweden.
Like all cruise ships the onboard daily routine is governed by the ship's daily programme…
*****
The daily programme was supplemented with a notice board placed in the area of the Tropical Bar…
In the event of any last minute changes, this board would be amended in RED to reflect the changes as this one was following our abandonment of attempting to land at Bilitung (more about this in the itinerary section)…

Each evening prior to a shore day there was a 'port' presentation given by the Cruise Director in the Tropical Bar…
In the cabin review section I mentioned us receiving a complimentary hardback copy of 'The Star Clipper Saga'. It turned out that the author, Erling Matz, and his photographer wife Carina were actually onboard for this cruise and it was a delight to meet up with them and exchange a few stories…
On one particular sea day we were given a presentation by the Chief Engineer followed by a tour of the very compact engine room and mechanical workshop…
*****
This review is currently still under construction and is not yet fully complete
If you have enjoyed this review of Star Clipper and would like to be amongst the first to hear of new reviews including  a forthcoming cruise review of  Carnival Dream, a Mississippi  river cruise onboard the American Queen, plus  Solent Richard's next  port reviews featuring Hong Kong and New Orleans,   why not join over 600  followers by clicking on the 'Follow' link on the front page.
You will be alerted by email immediately a new post appears.
©2015 – 17 * Solent Richard's Cruise Blog * All Rights Reserved
Duplication in part or whole without prior written consent is prohibited by international laws.
Click Here For Original Source Of The Article